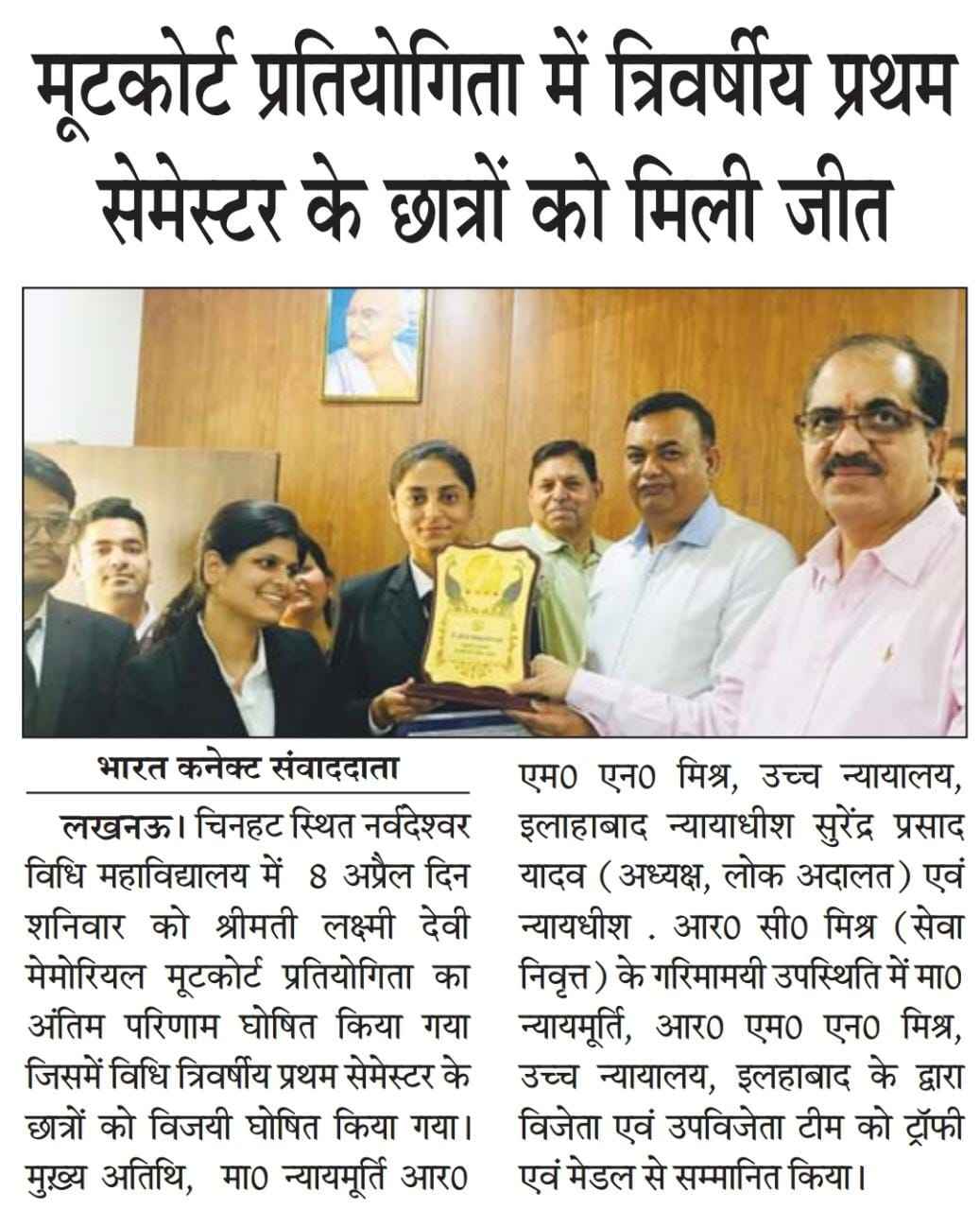 The Lakshmi Devi Memorial Moot Court Competition results have been announced at Narvdeshwar Law College in Chinhat. The first-semester law students have emerged victorious in this prestigious competition. The event was graced by esteemed Chief Guest Justice RMN Mishra, High Court, Allahabad, Justice Surendra Prasad Yadav (Chairman, Lok Adalat), and Justice RC Mishra, High Court, Allahabad, who presented the winning and runner-up teams with Trophies and Medals. The College Founder Prof. Narendra Mani Tripathi, Principal Dr. VK Shukla, extended a warm welcome to the distinguished guests, including Vice- Chairman & MD Dr. (Prof.) DM Tripathi , Vice- Chairman Dr. Shivesh Mani Tripathi & ollege C.E.O Dr. Dipti Mani Tripathi
The students' hard work and dedication have paid off, and their success is a testament to their commitment to excellence. The competition was a challenging test of their legal knowledge and skills, and they rose to the occasion with flying colors. The judges were impressed with their arguments and presentation, and the students' victory is well-deserved.
The event was a grand success, and it was an honor to have such esteemed guests in attendance. The College Manager and faculty members are proud of the students' achievements and wish them continued success in their legal careers. The Lakshmi Devi Memorial Moot Court Competition has been a valuable learning experience for all involved, and it has helped to foster a spirit of healthy competition and camaraderie among the students.